How to increment the number of selling prices in SIMS
To increase the number of selling prices in SIMS:

From Admin menu, go to Company Maintenance > Selling Prices tab.

Increase the value next to Number of SP (selling prices).
This can be incremented up to 6 selling prices.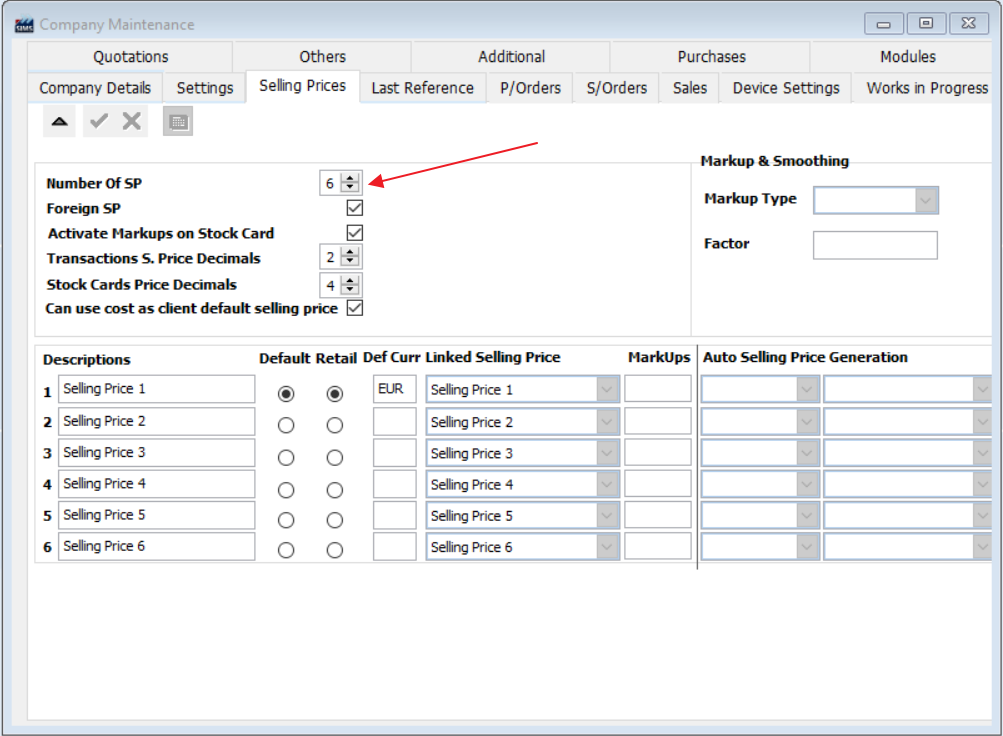 Related Articles

How do I set different Selling Prices for customers?

SIMS allows you to set a different selling price per client. Every time you sell an item to a client, SIMS retains the last price that you sold it per client, per stock card. To view this, go to: SIMS > Support > Client Additional > Last Selling ...

How can I link a default SalesPerson, or Selling Price with a client?

In SIMS, you have the option to link a particular Salesperson and a Price category with a Client. This functionality caters for more accuracy when selling from SIMS, as the prices and salesperson are picked up automatically without the need of ...

Creating and Updating Contracted Prices in SIMS using Excel

Creating New Contacted Prices Scenario 1: Adding a new contracted price for an existing client Go to Support > Clients and choose the client. Click on the Contracted Prices tab. Press + or 'Insert' on the keyboard. Enter the stock code and choose a ...

How do I create a New Company in SFM?

1 Creating a New Company in SFM To create a new company within your current installation of SFM, from the Current Year menu select the Utilities sub-menu. From the Utilities sub-menu select Company Maintenance and press the Insert key on your ...

Deactivate or Activate a SIMS Company

SIMS - Active companies By default, all SIMS companies are set to active. Unused companies can be de-activated. This means that the company data will remain available for viewing and printing reports, but all posting will be disabled. The company ...