To modify the Posting Periods, go to Admin > Posting Period menu option which will present the dialogue box alongside. All you need to do is to enter the required posting period as per your preferred controls and procedures and click on Save
.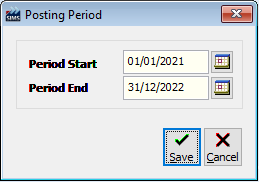 If the current posting period is set from 01/12/2021 to 31/12/2021, for example, and this is not changed by 31 December 2021, you or your users will risk processing transactions in 2022 with the dates of 2021.

For users who have an interface with SFM, it is not required to run the end of year in SFM to open up posting for the new year in SIMS. However, all accounting transactions exported to SFM will remain in the SFM gateway until the end-of-year process in SFM is undertaken successfully.

For users of SIMS with an interface to SFM, if the end-of-year procedure has been processed on SFM, when transactions are back-posted in SIMS, these transactions will appear in SFM's Previous Year and will need to be imported in SFM from the Previous Year. This is done from Previous Year > Utilities > Import Function.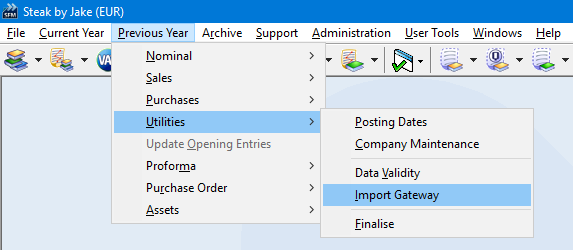 Back-posting in SIMS is not recommended because of the impact this will have on valuations up to a given date.