Error: "Error reading file ... CDX file" given when using SIMS
Problem
Error: "Error reading file ... CDX file" given when using SIMS. The error would quote a file with the extension '.cdx'.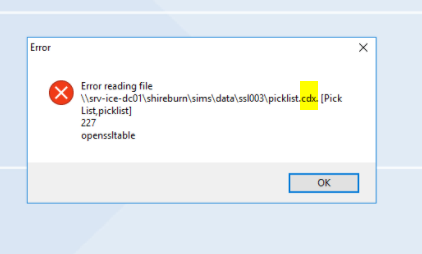 Environment

SIMS

Solution
A restart of SIMS and PC will generally resolve this error.
If you are using Wi-Fi, switch to a wired connection.
Cause

This is generally caused by poor internet/LAN connection and/or intermittent network disconnections.

Important: if this error is happening on all PC's AND using a remote connection, please contact your IT team. It is likely that a restart of the remote app connection is needed.
Related Articles

Error: Cannot send email through SIMS

Problem The user tries to send a document from SIMS, but the email program does not open. Environment SIMS Solutions 1. Default Email Program Settings Go to Start in your Windows toolbar. Type 'Default' and click on the below: Then choose the default ...

Error 7017 | Corrupt indexing error upon logging in to SFM

Problem An SupplierSadsTable: Error 7017: Corrupt .ADI, .CDX, or .IDX index error pops up upon logging in to SFM. Environment SFM Solution A re-indexing would need to be carried out. Before proceeding with the re-indexing, it is important that all ...

How to run the SIMS Archive process

The SIMS Archive function reduces the size of the data store in Live by splitting the same data set in a different database, within the same company. This process improves the SIMS performance as it compacts the Live data set. Users can then access ...

Adding images to POS buttons from SIMS

You can assign images to Buttons to help POS users identify a product more quickly during a sale. Buttons pictures are best created from SIMS so they can be replicated to all POS stations in the company. In SIMS, go to Main > Point of Sale > Others > ...

Error: "File is in use. [,Tranpost.dbf] 227 openssltable" when creating an invoice

Problem Error: "File is in use. [,Tranpost.dbf] 227 openssltable" when creating an invoice. Environment SIMS All supported environments Solution Delete the tranpost folder located in the TEMP folder. Full path below: C:\Program Files ...