How to import and export data through Excel
You can export data to Excel by going to Support > Stock cards and right-clicking the blue box button in the top-left corner of the data grid (near the column headers). Then navigate to Export to Microsoft Excel and select the required fields (note that the STOCK CODE [unique key] must be always selected). This will export an Excel sheet with the data requested.

On the Excel sheet, you can amend the stock info required. Once ready to import the data back into your SIMS, apply the same steps above, but this time select Import from Microsoft Excel instead.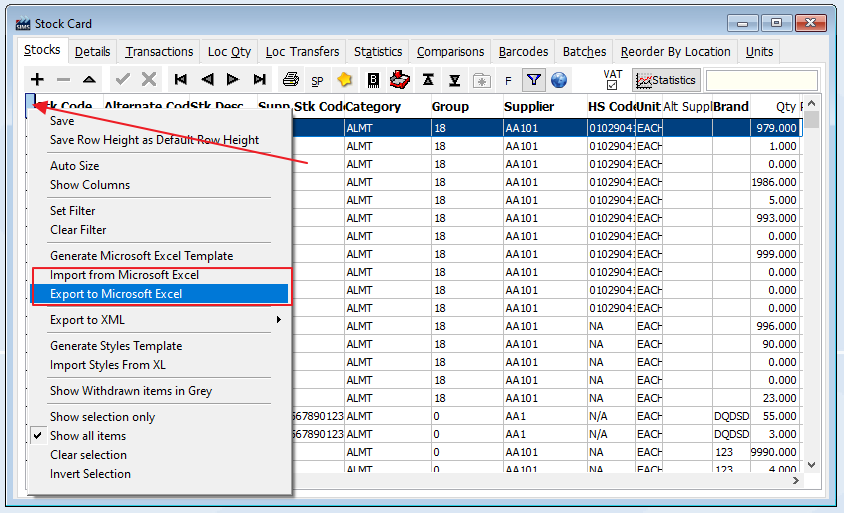 During the export process, you are able to define the columns and fields to be included in the spreadsheet: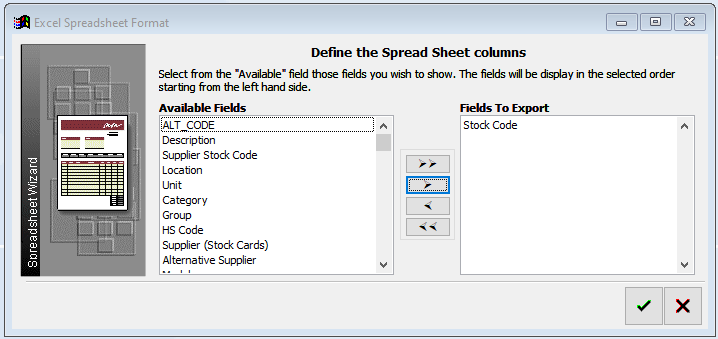 Related Articles

Importing details into the system using Excel

To import details into the system from Excel, you must first generate a template with the column names. This can be done by right-clicking the small blue box at the top-left corner of the grid you wish to populate and pressing the Generate Microsoft ...

Import Gateway - Transactions

The Shireburn Financial Manager (SFM) provides facilities to allow the importing of accounting data from third-party applications and/or your own work sheets into SFM. The options include the import of Nominal, Sales and Purchase transactions. ...

How can I import a stock-take (physical quantities)?

Depending on your setup, there are a number of different ways to import physical quantities during a SIMS stock-take: Import from Initialise To manually import a stock take, click on Import from Initialise and select Import All. Enter the Store ...

Error: "Primary key column was not found in the excel sheet" when trying to re-import items from Excel

ERROR Error: "Primary key column was not found in the excel sheet" when trying to re-import items from Excel when you are trying to re-import items that you have amended from Excel. ENVIRONMENT SIMS SOLUTION Follow the procedure below: Re-export the ...

Creating and Updating Contracted Prices in SIMS using Excel

Creating New Contacted Prices Scenario 1: Adding a new contracted price for an existing client Go to Support > Clients and choose the client. Click on the Contracted Prices tab. Press + or 'Insert' on the keyboard. Enter the stock code and choose a ...