Receipts & Costings: Latest Transaction Type Codes as per NSO
The below are the latest codes for transaction types as indicated by the NSO.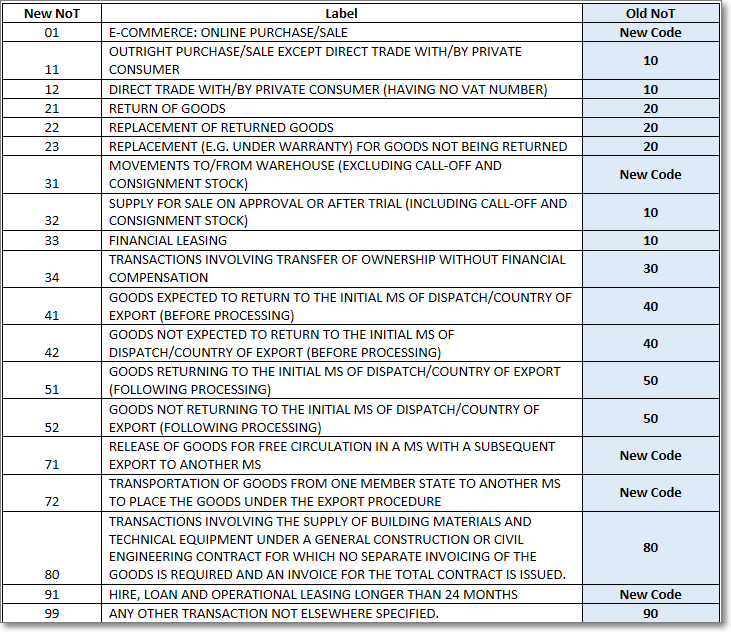 Related Articles

How to import a Purchase Order into a Consignment (Receipts & Costings)

Step 1 : Go to SIMS > Main > Purchases > Receipts & Costings. Step 2 : In the Invoice List tab, choose the consignment required from the list. Step 3: Click on the Invoice Lines tab, select Invoice Details and click on Import P/Order. Step 4: If you ...

How can I control different VAT codes on the same consignment?

There are two main options to control VAT codes while posting a consignment. These can be set up depending on the type of trade performed by the company. The two settings are the following: Option 1: Default VAT code set on the Supplier The setting ...

How to Change a Stock Code in SIMS

To change a stock code: Open SIMS. Click on Admin > Change/Delete Stock Card > Change/Delete Stock Card. 3. Input the old stock code, leave the Delete box unchecked, and input the new stock code. 4. Click on the Save button (floppy disk icon) to ...

Bulk change of entity codes

To change entity codes in bulk in SFM, follow the steps and illustrations below. Prerequisite steps: Stop your POS replicator. Save backups of your SIMS and SFM. Be sure that all users logged out of SIMS and SFM.. Carry out procedure as illustrated ...

How to update SPOS to latest version

Updates need to be done in order to keep the system in optimal shape, get the new features, and more importantly, it will contain bug fixes. To perform the update an admin user must be logged in the system or else the update option will be greyed out ...