How to update SPOS to latest version
Updates need to be done in order to keep the system in optimal shape, get the new features, and more importantly, it will contain bug fixes.


To perform the update an admin user must be logged in the system or else the update option will be greyed out

Go to Help > Web Update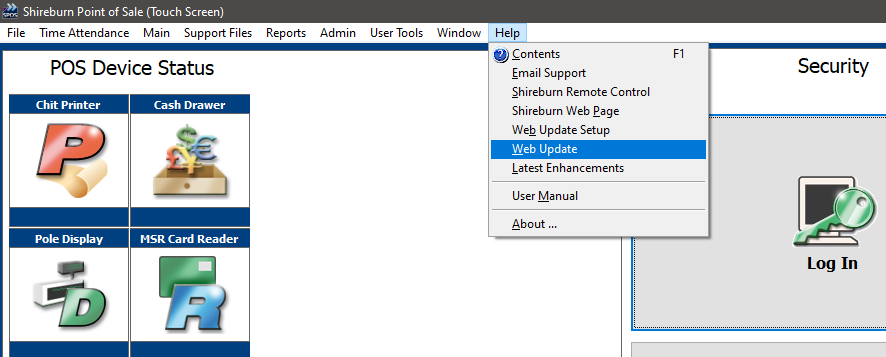 It will come up in this pop-up window.

Check-

to confirm whether any updates are available,

but the download is not performed

Download - download the update to the latest version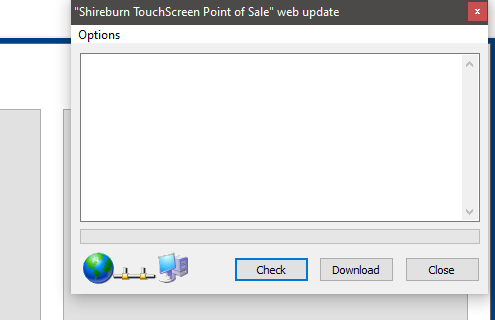 If an update is available after you press
Check
then you can perform the update by pressing
Download
.
The download progress will be seen in the popup box.
Once done, the update will ask you to restart the POS, where it will
perform a backup before proceeding with the actual update. The normal login screen will be shown automatically once the whole process is completed.
Related Articles:

Related Articles

How to update SIMS to latest version

In order to update, all users should be logged out of SIMS and SFM (if applicable). In the case of SPOS, close the POS replicator. N.B. In case of a Remote Desktop Connection to the server, log out of SIMS and SFM first and then quit the remote ...

EMVS notifications during the verification process in SPOS

While scanning your products in the transaction screen, each line is marked with the current verification state. Note that it is not the sale of the product that issues critical decommissioning alerts, but rather it is the update processes following ...

SPOS Release Notes

2022 SPOS | v.3.0.38 Release date: 15 March 2022 Enhancements Links to Zoho Assist and the Help Centre have been added to the Help menu. The Reconciliation ID has been added to the End of Day report (Z-read). SPOS | v.3.0.37 Release date: 7 March ...

How to update the POS from the replicator server

If a client has multiple POSs and wants to perform a global update on all of them, this can be done directly from the replicator server. Open the replicator server, go to the Help menu and choose 'POS Web Update'. This will bring up the below: Press ...

SBS with EMVS notification system

Summary SPOS (3.0.28) and SIMS (3.0.21) have been updated with a new notification system that provides decommissioning alerts and warnings. Now, the systems produce clear warnings on the statuses of the EMVS-related products (packs) processed through ...