How to check voucher status in SIMS

In SIMS, Vouchers can have 3 different statuses:
SOLD: Voucher was issued or sold but is not yet redeemed.

RETURNED: Voucher is redeemed.

NOT USED: This happens when a voucher is created from SIMS for a promotion, such as to give it away for free. If the status is Not Used, the voucher will be downloaded into POS and can then be found in the POS vouchers list during a voucher sale, when pressing the 'Search Available Vouchers' option.

To check the status of a voucher from SIMS, go to Main > Point of Sale > Vouchers.

The vouchers list will open. Check the voucher status via the Tran Type field.



The status
Not Used
occurs when vouchers are created from SIMS for a promotion.
To redeem a voucher that is marked as Not Used, highlight it with the space bar and click Mark as Sold at the top.


After a few minutes, the voucher will update to SOLD in the POS, and will be listed in the voucher payment type list.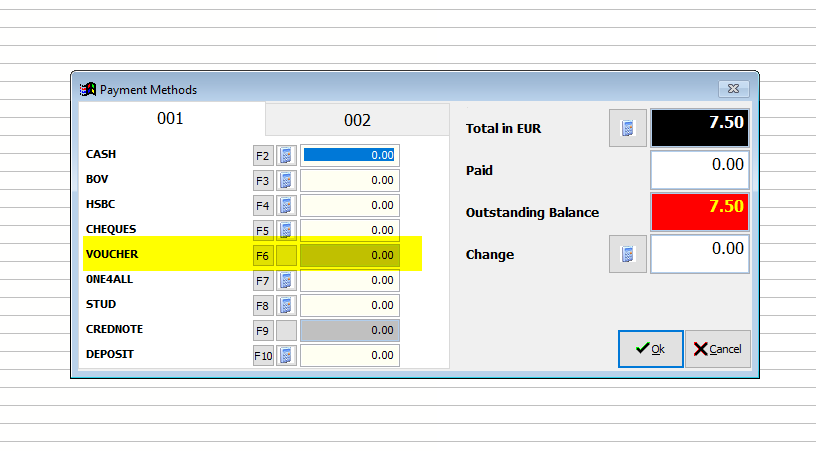 ---
Related Articles

How to check the status of a voucher from POS

This will guide you on how to check the status of the voucher as in sold or returned. In POS, Vouchers can have 2 different statuses SOLD: Voucher was issued or sold but still not redeemed. RETURNED: Voucher is redeemed. To check from POS the status ...

How to redeem a voucher on POS

Add an item to the sale page Proceed to the Check Out. Go to the Payment option or click directly on the Payment button. When the payment types pop up, press either of the options near 'Voucher'. The below pop-up will appear. Enter the voucher number ...

SIMS Proforma Module

The SIMS Proforma module enables you to prepare proformas of the following: Invoice Credit Note Cash Sale Cash Return Purchases from Supplier Returns to Supplier You can convert a proforma invoice into an invoice if needed, and likewise for all the ...

How to run the SIMS Archive process

The SIMS Archive function reduces the size of the data store in Live by splitting the same data set in a different database, within the same company. This process improves the SIMS performance as it compacts the Live data set. Users can then access ...

The EMVS notification system in SIMS

Please refer to this article for a full summary of the EMVS notification system in SBS. Notifications in the top menu of SIMS SIMS with EMVS has an EMVS notification system that is designed to make EMVS-related alerts and warnings more visible to ...