Error: No accounting details for code when exporting from SIMS to SFM
Problem

Error: No accounting details for code when exporting from SIMS to SFM

Environment

SIMS, SFM

Solution

The Accounting details on SIMS from Stock Groups or Location need to be updated.

It is important to first:
1. Confirm which accounting group code to allocate the stock group under as this could result in incorrect data.
2. Go to
Admin > Company Maintenance
and verify that the I
nterface Type by
field is either
Location
or
Stock Group
.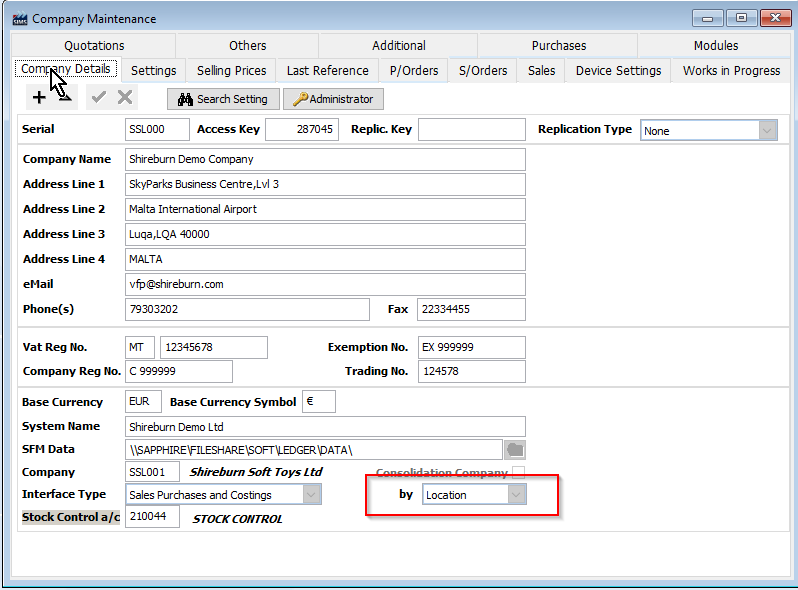 To allocate the accounting group to the SIMS Stock Group:

Go to SIMS Menu > Support > Locations or Stock Groups (depending on what is needed).
Select Code.

Click the A button to Interface with SFM.




Amend the record.




Click Save.
Cause

The stock group or location in SIMS was not allocated to the correct accounting group code.
Related Articles

How to Change a Stock Code in SIMS

To change a stock code: Open SIMS. Click on Admin > Change/Delete Stock Card > Change/Delete Stock Card. 3. Input the old stock code, leave the Delete box unchecked, and input the new stock code. 4. Click on the Save button (floppy disk icon) to ...

SIMS and SFM Interface Posting

The following table identifies the accounting entries posted in the Shireburn Financial Manager from transaction in the Shireburn Management Inventory System. The link from the inventory to the accounting system is available from the stock group or ...

Error: 'Average cost below zero for stock code [code]' when returning an item

Problem When a user tries to return an item with a cost that is higher than the purchase price, the system gives a notification that the Average Cost below zero for Stock Code [code] Example: User has 465 * 4.0697 in stock = €1,892.41 Trying to ...

What do I do when SIMS stops updating because 'stock item value is not zero'?

Question: When posting transactions, why does the system stop updating and gives the error "Stock Item Value is Not Zero"? Answer: While posting Purchases, Return to Suppliers, Adjustment Add and related WIP Transactions, the system includes a ...

Managing BCRS Purchase Charges in SIMS

Introduction All purchases in SIMS are only allowed to inventory products and not to non-inventory items. With the implementation of BCRS from Monday 14th November 2022, and if you purchase products that fall within this new scheme, you will be ...