SFM allows you to modify the name of a company in your system.
In order to do so, you first need to provide us a report of your companies, the name of the new company, and the old name of the company that will have its name changed.

After sending us these three things, we will send you an authorisation key that you will use to confirm the change of name in your company settings.
To create a company list report:

Open the company selection window by going to User Tools > Change Company (this window can also be accessed when starting up SFM).

Click on the Printer button in the bottom-left corner of the window.

Select PDF as your printer, and then click OK.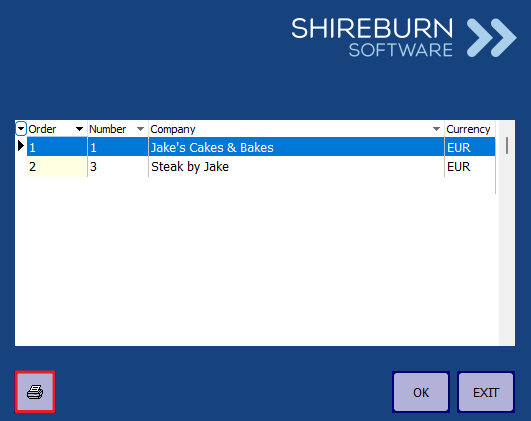 Send this report along with the new name of the company and the name of the company whose name will be changed to accounts@shireburn.com. You will then receive an authorisation key.

To change the company name:

With the company open in SFM, go to Current Year > Utilities > Company Maintenance.

In the Company Details tab, click on the Edit Record Icon (side bar) arrow.

Click on the Edit Icon (Pen Symbol) next the Company Name field.

Type in the new company name and enter the Authorisation Key.

Click OK to save the change.