Can I set nominal account budgets in SFM?
Nominal account budgets can be imported in SFM through
a template (attached).
The budget amounts are entered per period/ per nominal account. Below are some points to note when entering the budgets in the template:
1.
The budget amount has to always be positive in the template.
2.
Periods that do not have a budget amount have to have 0 (zero) in the cell.
3.
If there are any nominal accounts that do not have any budget figure for any period, you need to either remove the row for that account or fill all the respective columns with zero (0).
4.
Do not remove period 13, even if you do not use it.
Once completed, the budget template should look something like the image below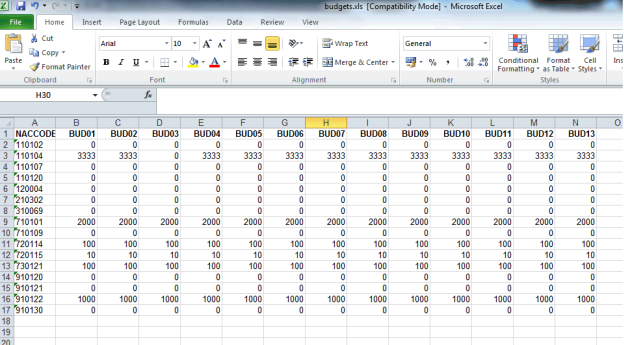 The next step is to import the budgets in SFM. To do so you need to go to nominal Menu > Chart of accounts, and then follow the instructions below.
Once the budgets are imported into the system, one can re-print them from the Nominal reports > Budgets.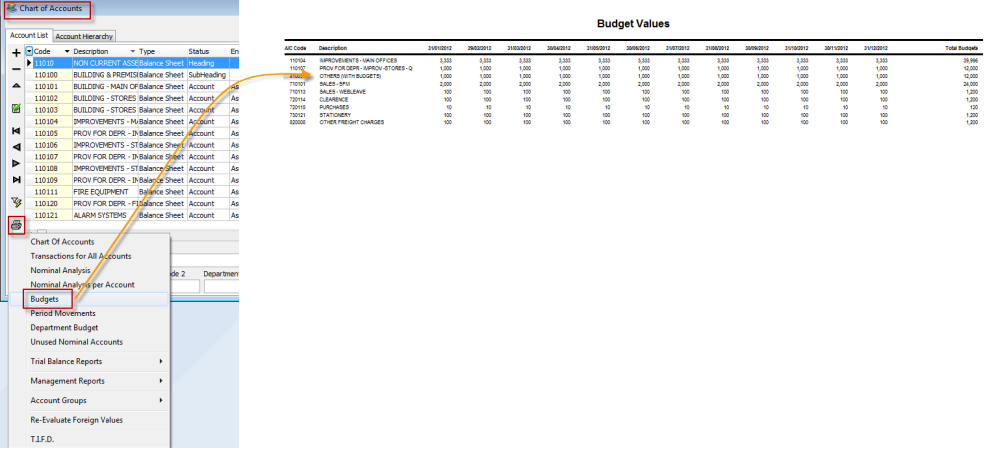 One can also run the management reports with budgets comparison to get something like the image below.



Attached you can find the Template which can be imported using the Excel button in the Chart of Accounts window:

Related Articles

Setting up a Set Off Account in SFM

To setup your set off account first go to Support > System control accounts. Press the + button and fill in the details below: Control A/C: This field must be set to the SET OFFS ACCOUNT. A/C Code: This field must be set to the nominal account that ...

How to set Percentage Allocation in SFM

The Percentage Allocation functionality in SFM allows you to split an entry into two or more different Nominal accounts automatically allocating this by percentage which is setup by the user. Setting Up Percentage Allocation Create a Nominal ...

Setting up Budgets and/or Forecasting

To set up Budgets or Forecasting for your SIMS: Go to Company Maintenance > Others. Decide which field (group, category, department) to use on the Y-Axis of the Stock Budgets matrix. Budget Style (checking about its usage) Y axis items to exclude ...

How do I print nominal transactions across different financial years?

As from SFM Version 2.0.8.56, a user can print nominal transactions across different financial years. The report to achieve this is called Transactions for All Accounts. and it is found in Current Year > Nominal > Chart of Accounts Reports > ...

How to create a new Control Account in SFM? (Bank Account, Cash Account, Stock Control, etc)

Create the Account in your Chart of Accounts as seen below. Please make sure you use the code depending on your Heading and Sub-Heading digits. After creating the account, you need to specify the account as a System Control Account. Go to Support > ...